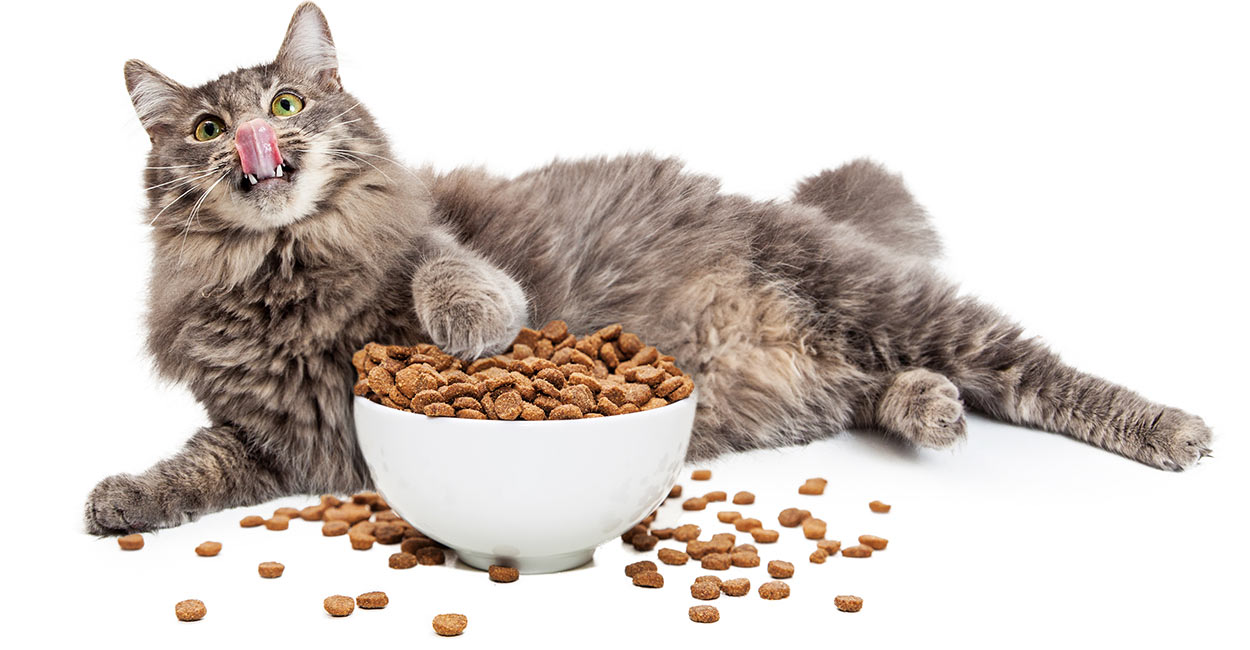 Could Your Kitty Do With Shedding A Few Pounds? Then You'll Be Looking For The Best Cat Food For Weight Loss.
There Are Lots Of Diet Cat Food Options. But Which Ones Are The Best?
In This Guide We'll Take You Through What Makes The Best Cat Food For Weight Loss Effective, And How To Pick The Right Brand.
Have you ever made a New Year's resolution to lose weight?
I have and I bet many of you have as well.
But did you know that some of our feline friends could benefit from a healthy weight cat food too?
According to experts, obesity is the second most common health problem among domestic cats.
One study showed that 63% of cats and 59% dogs seen in one veterinary clinic were seriously overweight. So it's a pretty common problem.
Is your cat overweight or obese?
Take a look at your kitty: is she a bit pudgier than she should be? I don't mean, "fluffy," or "big-boned," I mean heavy as in overweight!
It's hard sometimes to gauge our pets' appearance because we see them day in and day out.
Plus many of us, spurred on by pictures of cute cats on the Internet, consider a fat cat to be adorable.
But that extra weight is putting unnecessary strain on the body and organs that could eventually compromise her health and longevity.
What recourse do we have as pet parents? Although cats can technically go up to two weeks without food, this wouldn't be the kindest or safest solution. So if your kitty is overweight, one of the very first things you should consider is buying the best weight management cat food available.
Food for overweight cats
Is there really such a thing as, "fat cat cat food?" Yes there is!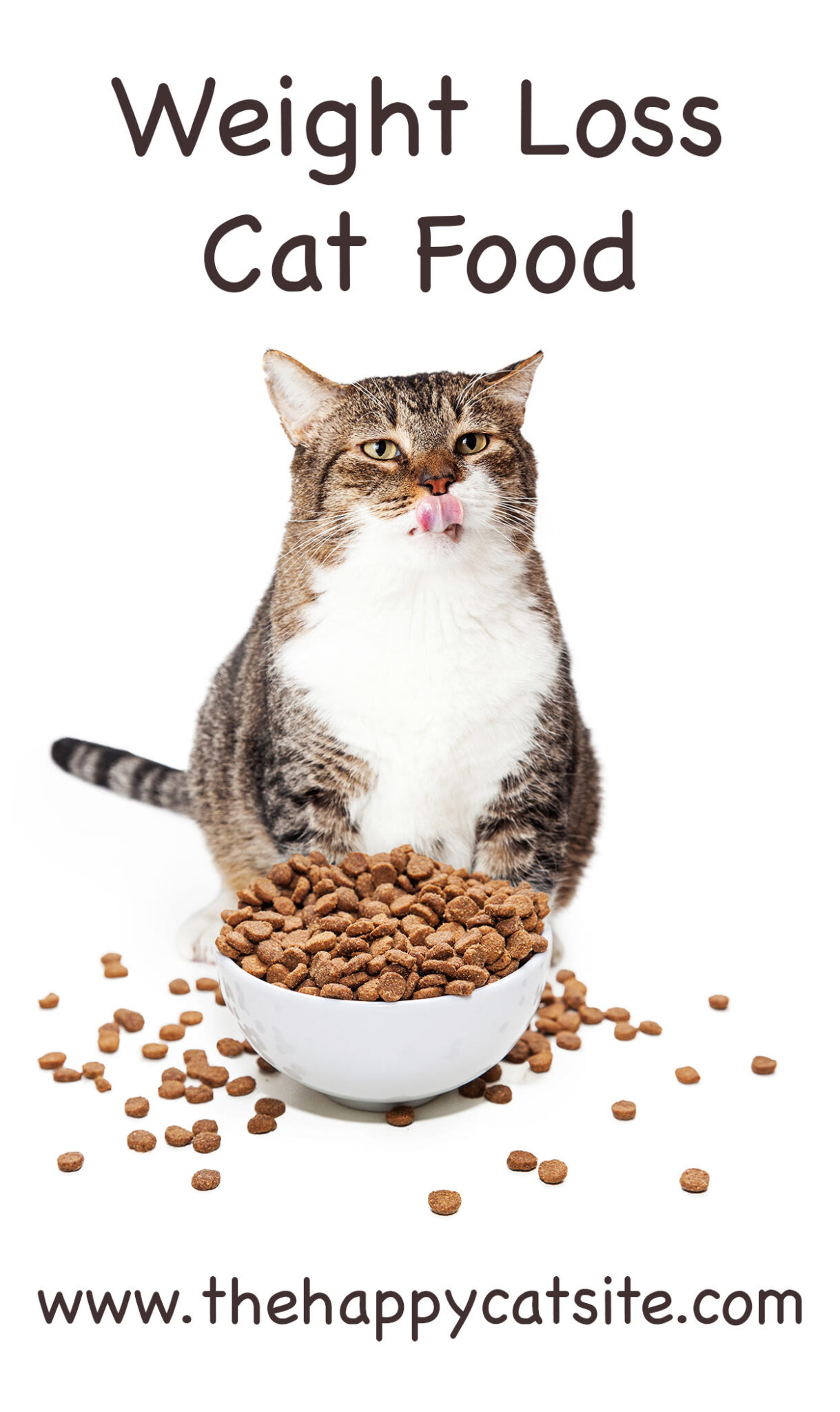 The best cat food for weight loss is one that addresses several diet and nutritional issues, such as low calorie cat food, low fat cat food, and low carb cat food.
Fat and carbs are nutrients, while calories are the sum of all nutrients in cat food for overweight cats.
Best cat food for overweight cats
The best weight loss cat food is one that addresses the factors, environmental conditions and special needs that have put your cat in the overweight category to begin with.
Does he simply eat too much?
Is his current food full of non-nutritional, high calorie content?
Many cats eat too much due to boredom or too much food being provided.
If this is the case for your kitty, your initial response may be to curtail his current intake.
But if the food he is eating is not adequate for his nutritional and lifestyle needs, then the problem may not be resolved.
Best diet cat food
There are factors other than overeating that contribute to obesity in cats.
Studies have found that age, inactivity, and owners' inaccurate perception of their cats' body condition all have a role to play in weight issues (as do as gender and neutering).
Some cat breeds, such as Persian and Manx, are prone to being overweight.
Most of us would agree that a happy cat equals a happy life.
For many cats eating to their heart's content whenever they want makes them happy, and in turn our clever little animals have figured out how to get us to feed them accordingly!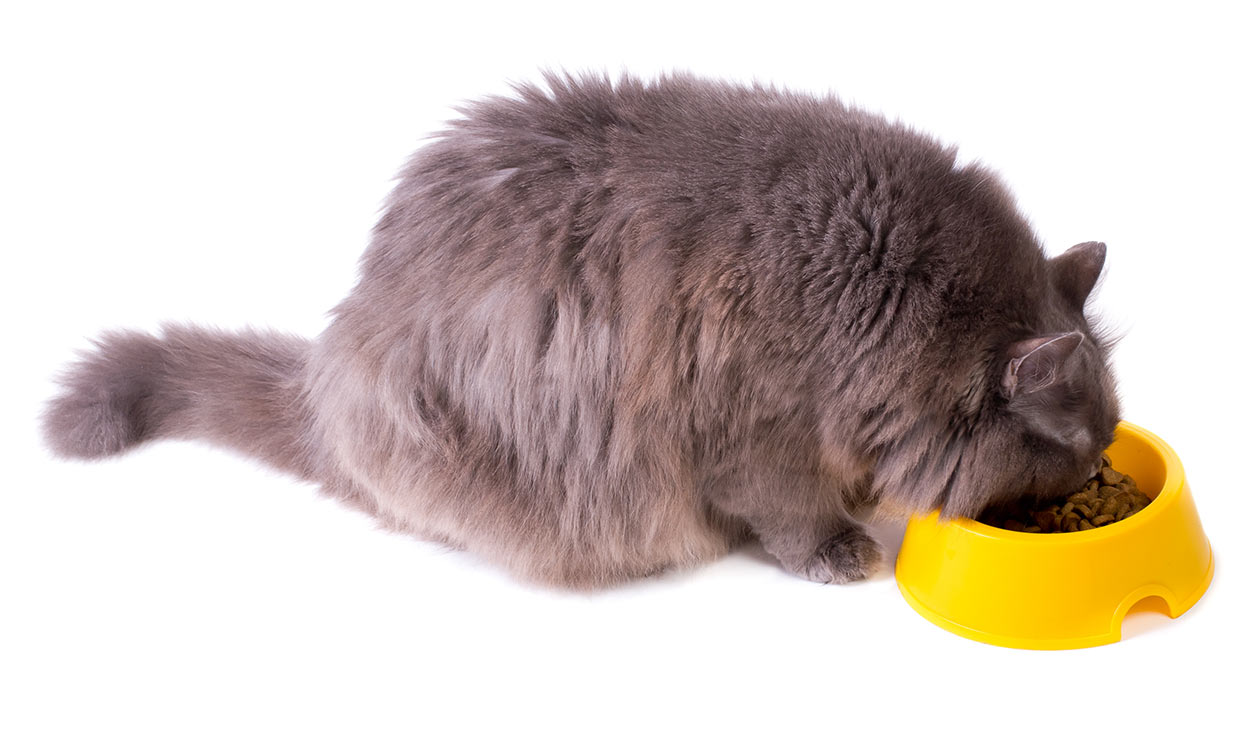 As much as I hate to admit it, there are times when I give in to my own cat's pleading for more food, even though I know better!
Fuzzy has a way of giving me those kitty cat eyes, sometimes accompanied by an insistent little whine that causes me to act against my better judgment.
Fat cat food
But a fat cat is not a happy cat, and it's up to us to keep our little ones healthy as well as happy.
Numerous studies have found that excess weight is associated with serious medical conditions including diabetes, arthritis, and kidney disease, as well as joint and intervertebral disc disease.
The good news is that feline obesity is a nutritional disorder that can be successfully addressed with a complete and balanced diet, one that includes the best food for overweight cats.
Cats require a high protein diet
Cats are obligate carnivores meaning they require a high protein diet.
They do not extract nutrients efficiently from plant-based ingredients.
Protein and amino acids such as taurine and L-carnitine are key elements in weight loss diets, as is fiber from fruits and vegetables, such as beet pulp.
How well do you know your cat? Discover the secret world of cats.
The Happy Cat Handbook – A unique guide to understanding and enjoying your cat!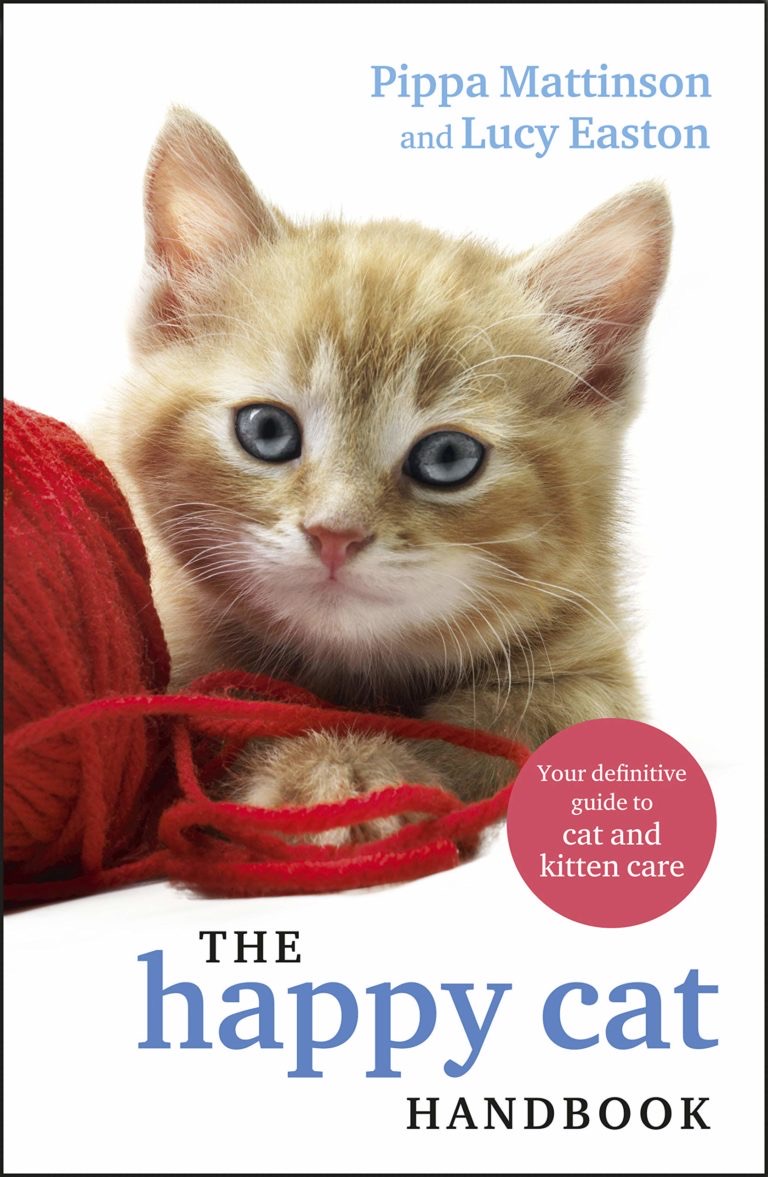 Protein is also essential to a weight management program because it helps cats maintain muscle integrity while at the same time losing unwanted fat.
To help you get started choosing a weight management food that will get your kitty fe-line fine, we've reviewed the best cat food for weight loss on the market today.
This includes low carb wet cat food, low carb dry cat food, low calorie dry cat food as well as the best cat food for overweight indoor cats who may be too inactive.
Best weight control dry cat food
If you suspect that your cat is overweight, consult with your veterinarian.
She will advise you on safe and proper strategies for weight management, including a special needs diet that includes appropriate food choices and meal plans.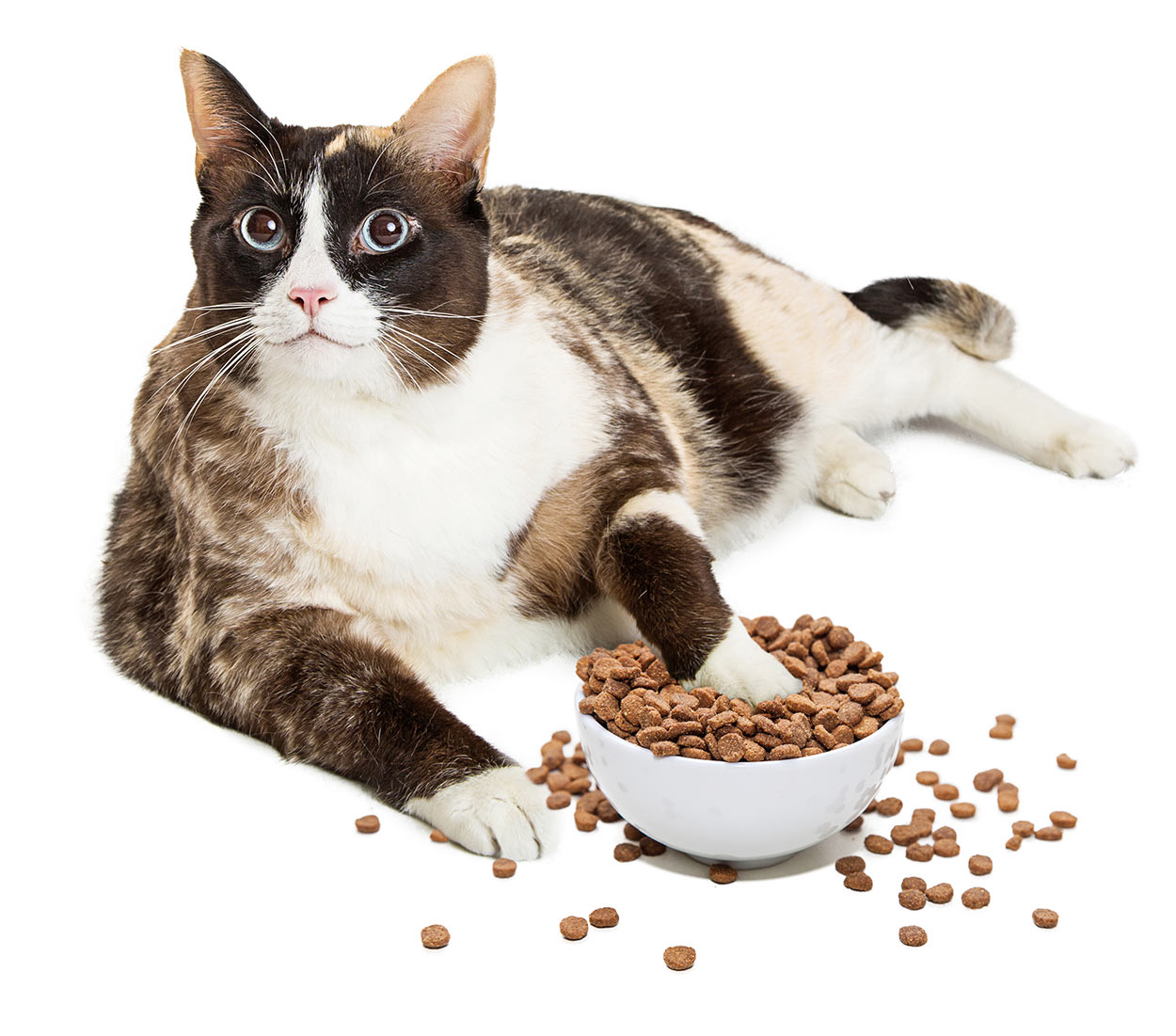 For various reasons, some kitty owners prefer to use kibble.
So what is the best cat food for weight loss in the dried isle?
BLUE Weight Control Chicken & Brown Rice
We give this premium brand's weight management formulation* top marks.

Protein rich chicken as well as whole grains are featured.
The tasty food is loaded with natural sources of omega acids, L-carnitine and taurine.
Pro Plan Focus Weight Management Chicken & Rice Cat Food
Purina's carefully considered weight plan formula* contains a whopping 46% protein, plus 20% less fat than some of their other recipes.

The special needs formula contains natural fiber sources to aid digestion.
Hill's Science Diet Indoor Dry Cat Food
Lean chicken is the first listed ingredient in this premium brand special diet recipe*.

It includes plenty of amino acids as well as the vitamins and minerals needed to keep inside cats feeling and looking their best.
Hill's Prescription Diet Low Fat
No prescription is needed to purchase this low cal/low fat dry cat food*.

The recipe is formulated to help cats maintain healthy weight levels.
The fiber levels allow for a "full" feeling, while L-carnitine raises metabolism and burns unwanted fat.
Natural Balance Fat Cats Dry Cat Formula
The name says it all, doesn't it?
This special recipe is the well-known brand's lowest calorie food*.

Taurine and omega acids round out the ingredients needs to help keep kitty's weight under control.
The formulation is available in both 6 and 15 pound bags.
Low carb cat food list
The best cat food for weight loss might well be a low carb variety.
Experts recommend a high protein diet complemented by a low carbohydrate ratio in order to maintain a balanced and healthy weight for felines.
Carbohydrates provide the body with energy, but not all carbs are created equally.
Did you know that thousands of research papers have been published on cat behavior and health? No time to read them all? Don't worry – we've done it for you! And picked out the best bits! The Happy Cat Handbook – A unique guide to understanding and enjoying your cat!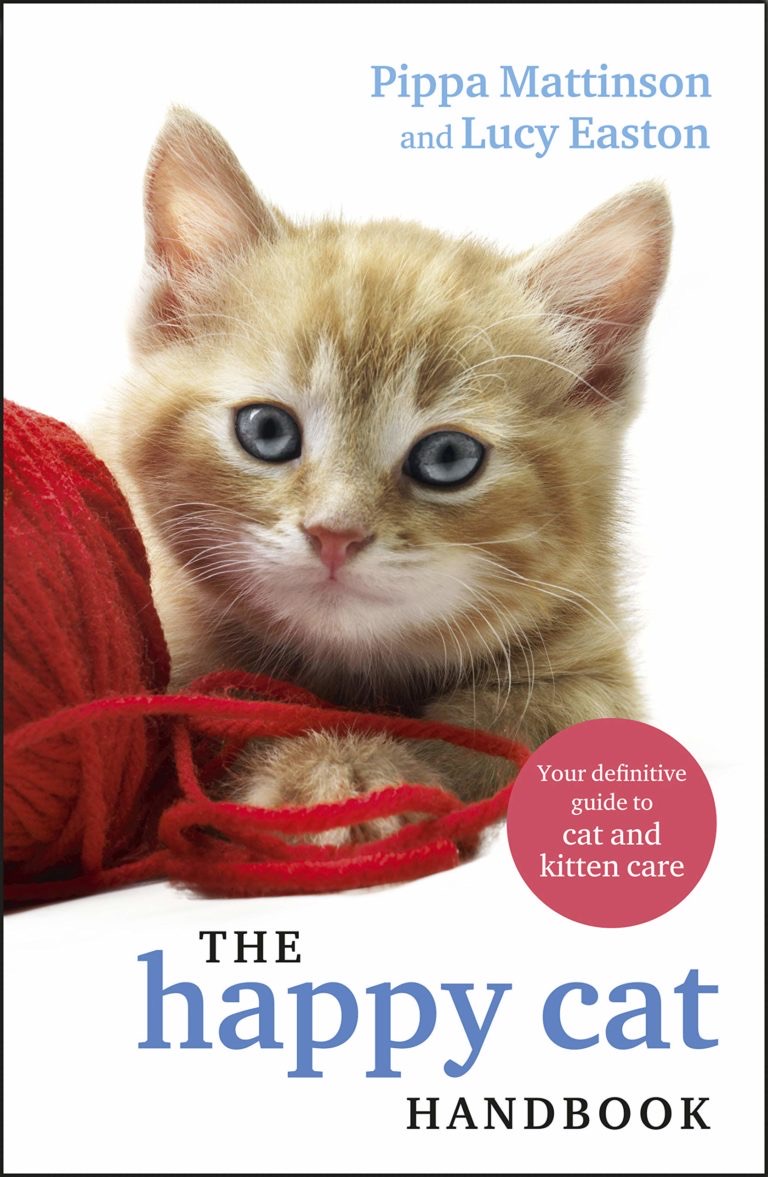 You've no doubt heard of good versus bad carbs.
Some carbs such as sugar and certain grains can add unwanted calories with little nutritive value.
In contrast, carbs such as the fiber in fruits and vegetables are preferable carb sources for weight management diets.
We've reviewed a variety of low carb canned cat food as well as low carb wet food in order to help you select a complete and balanced weight management food for your cat.
Keep in mind that any major changes in your cat's diet should be discussed with your veterinarian.
Nulo Grain Free Dry Cat Food
This high protein/low carb formula* contains 83% animal-based protein while offering fewer carbs.

There are zero grains included.
Weruva Best Feline Friend (B.F.F.) Grain-Free Wet
If variety is the spice of life, your kitty is sure to love thiswet food* in 3 ounce cans that include four tasty flavors.

Each recipe is high in protein while remaining low in carbs and fat.
Every formulation is grain-free and made in a human grade food facility.
"I and love and you" Nude Food Poultry A Plenty Grain Free Dry Cat Food
The formulation in this adorably named kitty food* is guaranteed to be 44% protein, with real meat the number one ingredient.

It is grain free and loaded with beneficial omega acids.
In addition, health-boosting ingredients such as turmeric, cranberries, and flaxseeds provide healthy sources of energy.
Purina Beyond Grain Free Pate Natural Recipes
Available in convenient packages of 12 cans each, healthy, protein-packed ocean whitefish is the number one ingredient in this formulation*.

Beneficial veggies add quality fiber and there are no grains such as corn or wheat.
BLUE Wilderness High Protein Grain Free
It's important to start cats off on the right nutritional paw, and this high protein food* is made with deboned chicken, while carbs are provided by healthy sweet potatoes.

The food contains zero artificial ingredients and no wheat, soy or corn.
It is available in both 2 and 5 pound bags.
Diet cat food wet
Are you looking for the best wet cat food for weight loss?
If your cat prefers or needs a moist or wet food to maintain the peak of health, we have some top rated selections that include wet cat food for weight loss as well as canned cat food for weight loss.
If your pampered kitty loves the sound of the lid being pulled back from his favorite cat food, these highly recommended wet foods are sure to get your cat to come running at meal time!
Hill's Science Diet Adult Indoor Cat Entree
Designed for the inside cat, this premium brand's recipe* can help both indoor and outdoor cats to maintain a healthy weight.

The high quality protein will help maintain healthy muscles as well as proper weight, and natural fiber sources aid in hairball reduction.
There are zero artificial preservatives or flavors to interfere with digestion.
Purina Pro Plan Wet Cat Food, Weight Management
This special turkey and rice recipe* boasts an optimal level of protein as well as key amino acids.

Plus, it comes with a Taste Guarantee Money Back promise; what could be better than that?
Purina Pro Plan Focus Healthy Metabolism Formula
Purina's Pro Plan Focus Healthy Metabolism Formula* checks a lot of boxes that apply to feline weight loss.

First, it is high in protein (made with real chicken) as well as L-carnitine.
The featured ingredients also aid in meeting the neutered or spayed cat's dietary requirements.
As an added bonus the food comes with a satisfaction guarantee!
AvoDerm Natural Canned Wet Cat Food
Protein is the number one ingredient in this premium brand's high quality special recipe.*

Added antioxidants as well as minerals and vitamins are featured to support immune system function.
This tuna and chicken formulation is absolutely grain free and comes in convenient packages of 24 cans, with your choice of 3, 5, or 5.5 ounce cans.
Weight management food for indoor cats
Indoor kitties may not get the level of exercise they need to burn off the calories they consume.
After all, there is no hunting and stalking required to eat, they simply have to show up on time!
These special needs formulations are geared toward inside cats. One of them could well be the best cat food for weight loss requirements your kitty is currently battling.
Pro Plan Focus Indoor Care Canned Cat Food
Optimal protein and fat levels combine to help your cat maintain a balanced weight in a delicious salmon and rice formulation.*

The food comes in a convenient pack of 24, 3 ounce cans.
As an added bonus the formula helps to control hairball development.
Rachael Ray Nutrish Indoor Complete Natural
Indoor cats are sure to love this top chef's specific needs recipe* that has protein rich chicken as its number one ingredient.

Lentils aid in proper metabolism and prebiotic sources include healthy pumpkin and dandelion greens to support digestion.
Purina ONE Indoor Advantage Adult Premium Cat Food
Lean turkey is the number one ingredient in this highly recommended formulation* that boasts a full 42 grams of protein per cup, with zero added fillers.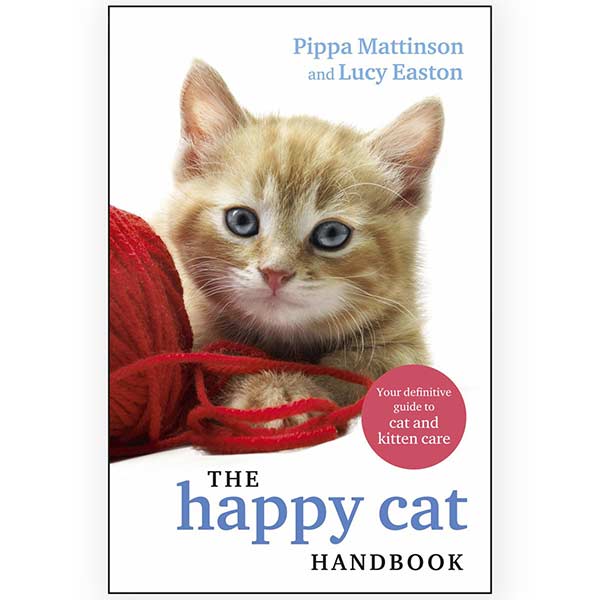 Antioxidants such as omega-6 will help your cat's body maintain a robust immune system.
Halo Spot's Stew Healthy Weight Recipe for Cats
Made with indoor cats in mind,the recipe* is grain free for reduced calories and features L-carnitine to aid with metabolism.

Wild salmon and whitefish provide high levels of protein and there is zero "meat meal."
Best diet cat food
The best cat food for weight loss is one that is high in protein and low in calorie dense carbohydrates.
Obesity is a growing concern among animal care professionals.
The risk factors for obesity include lack of activity such as is the case for many indoor cats, as well as uncontrolled feeding.
In addition studies have shown that owners tend to overlook or minimize the signs of pet obesity.
Fat cats however are not cute, they are unhealthy!
The problems that come with being overweight include kidney disease, diabetes, and joint and disc issues.
None of us want out pets to leave us prematurely, especially for a reason that is easily remedied.
With the best cat food for weight loss, food-related feline obesity can be reversed and/or prevented.
We hope that our best cat food for weight loss reviews have helped guide you in choosing an appropriate weight management food for your beloved kitty.
Do you want to recommend the best cat food for weight loss you have tried? If so we would love to hear your suggestions in the comments section below!
Affiliate link disclosure: Links in this article marked with an * are affiliate links, and we may receive a small commission if you purchase these products. However, we selected them for inclusion independently, and all of the views expressed in this article are our own.
Resources
Allan, F.J., et al, A cross-sectional study of risk factors for obesity in cats in New Zealand, Preventive Veterinary Medicine, 2000
Cave, N.J., A cross-sectional study to compare changes in the prevalence and risk factors for feline obesity between 1993 and 2007 in New Zealand, Preventive Veterinary Medicine, 2012
Colliard, L., et al, Prevalence and risk factors of obesity in an urban population of healthy cats, Journal of Feline Medicine & Surgery, 2009
Frye,C.W., Obesity, Exercise and Orthopedic Disease, Veterinary Clinics of North America: Small Animal Practice, 2016
Linder, D, Pet Obesity Management: Beyond Nutrition, Veterinary Clinics of North America: Small Animal Practice, 2014
Murphy, M., Obesity Treatment: Environment and Behavior Modification, Veterinary Clinics of North America: Small Animal Practice, 2016
Rowe, E., et al, Risk factors identified for owner-reported feline obesity at around one year of age: Dry diet and indoor lifestyle, Preventive Veterinary Medicine, 2015
AAFCO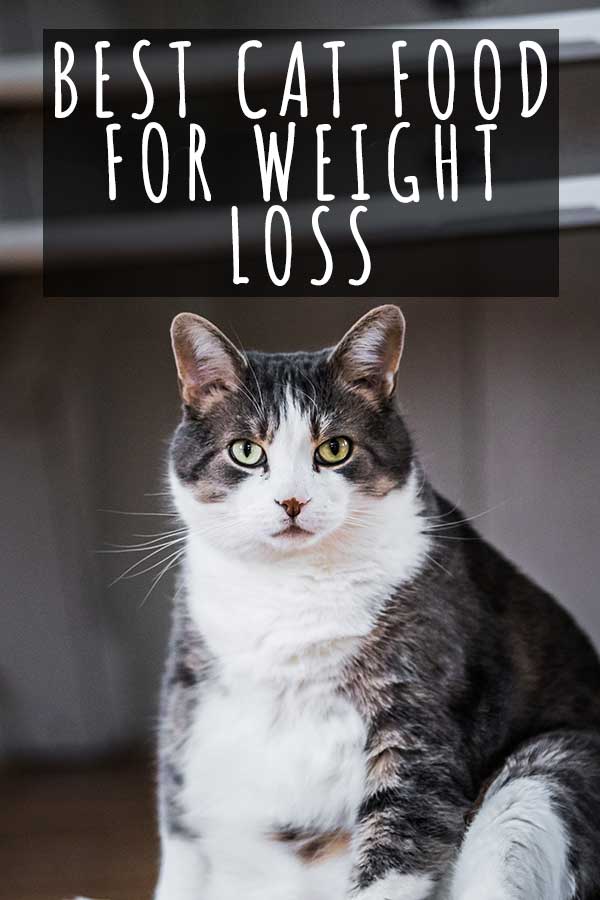 Your Amazing Cat!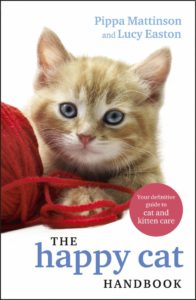 We are so excited to share our new book with you!
If you have enjoyed your visit to The Happy Cat Site we think you'll love The Happy Cat Handbook.
Written by the founders of this website including the author of the hugely successful Happy Puppy Handbook, it's packed with cat care information and fascinating cat facts.
Grab your copy today!